Some of you might not know how to paste, since when you right click, a block pop-up appears, which can cause some problems if you want to post a picture.

There's another way to do it, and it's pretty simple. Here's a guide on how to:
1. Make sure your picture has been uploaded on a picture sharing site, such as tinypic.com, or on the picture hosting button above.
2.Open up the picture tab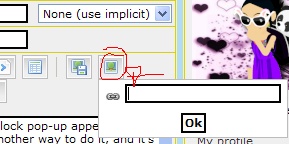 3.Press Ctrl and V together, at the same time. It should paste the code.
4.Delete any extra v's XD
TaDa! Your picture should be out in no time!